---
Feb 13, 2015
Rep. Gifford Appointed to Key Committee, Leadership Posts
BOSTON – House Minority Leader Bradley H. Jones, Jr. (R-North Reading) is pleased to announce that he has appointed Representative Susan Williams Gifford (R-Wareham) to a top leadership post and a key legislative committee for the 2015-2016 session.
Representative Gifford has been named as the Assistant Minority Whip for the House Republican Caucus, where she will work alongside the Minority Whip to help manage the caucus' legislative agenda and track important votes. The Wareham legislator has also been appointed to the House Committee on Steering, Policy and Scheduling, which is charged with assisting the Speaker and the members of the House of Representatives in identifying the major matters pending before the General Court, and the relative urgency and priority for the consideration of such matters.
"Representative Gifford will play an important role in helping to lead the caucus during the current legislative session," said Representative Jones. "She has always done a tremendous job representing the residents of her district by fighting to keep taxes low, promote affordable housing and protect senior citizens and the environment, and I am confident she will continue to do so in her new position."

"I am honored to receive my new committee and leadership assignments from the Minority Leader, and I look forward to working with my colleagues to pursue a responsible legislative agenda that will address the needs and concerns of all my constituents," said Representative Gifford.
Representative Gifford represents the Second Plymouth District, which consists of the communities of Carver, Wareham and Precincts 3 and 6 in Middleborough. She has been a member of the Massachusetts House of Representatives since 2003.
---
A Message from Susan
Thank you for visiting my online district office! I developed this website to help you connect to your government, and hope that you find it a useful informational tool.
From my efforts on the local level as a Wareham Selectwoman to my current tenure as State Representative for the 2nd Plymouth District, I have worked hard over the years to address the needs of area communities and look forward to continuing to do so for years to come.
As always, please feel free to contact me with any issue or concern you may have, and many thanks for your continued support.
Sincerely,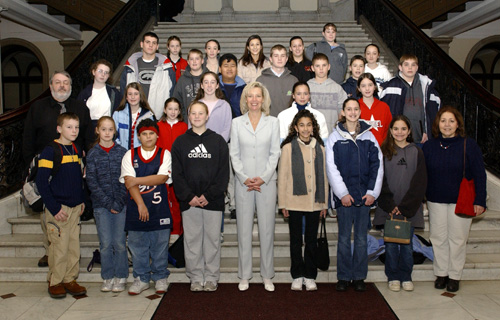 To help youth constituents learn about the State House and the legislative process, Susan hosts students from the Wareham Middle School on a tour of the state capitol building. more photos >>