---
May 10, 2013
Legislators Issue Letter to Governor Patrick Regarding 9C Cuts
Representative Gifford Joins Bi-Partisan Group Seeking Reversal of Cuts Made to Local Aid Accounts
BOSTON – Representative Susan Williams Gifford (R-Wareham) joined House Minority Leader Bradley H. Jones, Jr. (R-North Reading), Representative Angelo D'Emilia (R-Bridgewater) as well as a bi-partisan group of legislators, in submitting a letter to Governor Patrick, asking him to reverse the 9C cuts that were made to accounts affecting local aid. Rendered last December for Fiscal Year 2013, the legislators feel that the cuts have negatively impacted communities across the Commonwealth.
The letter to the Governor, which is supported by both House Democrats and Republicans, emphasizes that "communities across Massachusetts are counting on funding so that they may provide necessary services to our constituents." The correspondence notes that while 9C cuts are within the Governor's authority, the Legislature worked diligently in providing Governor Patrick with a compromise of funding necessary in order for local programs and agencies to operate at an efficient and effective level.
"In light of continued strong revenue collections, restoring these local aid funds cut by the Governor is both fiscally responsible and justified," said Representative Jones. "The funds outlined in our letter to Governor Patrick are essential for cities and towns across the Commonwealth."
"I believe a primary function of state government is to provide local aid to our cities and towns. We do understand that sometimes 9C cuts are a necessary part of fiscal responsibility but priority consideration should be given to any item that would negatively affect anticipated local aid," Representative Gifford said. "Given the recent revenue collection figures, restoring these cuts is the prudent thing for the Governor to do. I will continue to fight for increased local aid to our communities for necessary services and work to overturn these cuts."
"When first faced with the reality of 9C cuts, which would have a negative impact on our communities and constituents, the House and Senate worked diligently and provided Governor Patrick with a compromise of priorities – which he rejected," said Representative D'Emilia. "Now, with the state's finances having well exceeded benchmarks, local aid should be restored before any other monies are spent by the Governor."
Citing Year-to-Date tax revenue collections through April being $510 million above revised benchmark, the letter to the Governor goes on to say, "With this incredible turnaround in revenues, now is the time to restore the cuts which so negatively impacted our communities."
Some of the accounts that the group of legislators is seeking to restore funding to include: Veterans' Benefits; Transportation for Regional School Districts; Reimbursement for Special Education; Charter School Reimbursements; and Department of Correction.
---
REPRESENTATIVE GIFFORD ANNOUNCES COMMITTEE ASSIGNMENTS
Boston- State Representative Susan Williams Gifford (R-Wareham) announced that she has been appointed to three legislative committees. Rep. Gifford, who was re-elected for her sixth consecutive term last November, will serve as the ranking member on two committees: the Joint Committee on Environment, Natural Resources & Agriculture and on the Joint Committee on Financial Services. In addition to this, Rep. Gifford will also serve on the House Committee on Steering, Policy and Scheduling.
"I'm honored that I will be able to continue working on matters concerning the environment and agriculture, which are of vital interest to my District," said Rep. Gifford. "In addition, being re-appointed to the Financial Services Committee this session will allow me to have greater input on the issues of auto and homeowners insurance along with financial services and banking industry legislation."
"I am thrilled to have Rep. Gifford as a member of the House, and most of all, the Republican caucus," said Jones, R-North Reading. "I know she is eager to continue with the legislative process, and I am confident that her wealth of experience and knowledge will be invaluable assets to these important committees."
The Second Plymouth District is comprised of Carver, Wareham, and precincts 3 and 6 of Middleborough. Those interested in more information on these committee assignments are encouraged to contact Rep. Gifford's office. She can be reached at the State House by calling (617)722-2976, or through her District Office by calling (508)295-5999.
---
A Message from Susan
Thank you for visiting my online district office! I developed this website to help you connect to your government, and hope that you find it a useful informational tool.
From my efforts on the local level as a Wareham Selectwoman to my current tenure as State Representative for the 2nd Plymouth District, I have worked hard over the years to address the needs of area communities and look forward to continuing to do so for years to come.
As always, please feel free to contact me with any issue or concern you may have, and many thanks for your continued support.
Sincerely,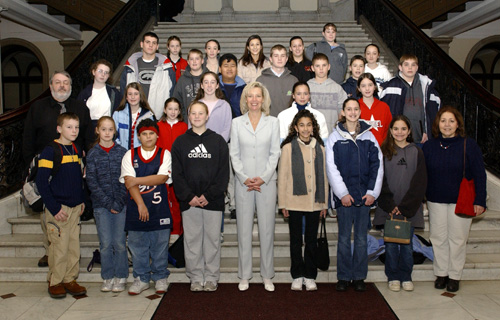 To help youth constituents learn about the State House and the legislative process, Susan hosts students from the Wareham Middle School on a tour of the state capitol building. more photos >>