---
Holiday Party 2013
August 15, 2013
Representative Susan Williams Gifford Appointed to Special Commission
Commission Charged with Studying Massachusetts Tourism Fund
BOSTON—House Minority Leader Bradley H. Jones, Jr. (R-North Reading) is pleased to appoint Representative Susan Williams Gifford (R-Wareham) to a special commission charged with studying the distribution of funds from the Massachusetts Tourism Fund.
The Wareham Republican will join fellow legislators as well as appointees of the governor in reviewing and evaluating the Massachusetts Office of Travel and Tourism's current funding formula. The group will also be instrumental in determining if any revisions are necessary for achieving a fair funding formula – thus ensuring that funds are distributed in a judicious and effective manner.
"Representative Gifford is well versed in the Commonwealth's booming tourism industry as her district, the 2nd Plymouth, is comprised of dynamic communities which consistently attract a large amount of tourists," said Representative Jones. "I am extremely confident that Susan will bring a wealth of real-world knowledge and invaluable expertise to this Commission."
"I am honored to have been appointed to this Commission by House Minority Leader Brad Jones," said Representative Gifford. "The questions on who gets tourism funding and how much have lingered for years. I'm looking forward to getting those answers and making sure the funding formula is appropriate."
The Commission will be responsible for submitting their findings to the House and Senate Clerks, the Joint Committees on Higher Education and Ways and Means, and the Joint Committees on Tourism, Arts, and Cultural Development by no later than May 1, 2014.
---
A Message from Susan
Thank you for visiting my online district office! I developed this website to help you connect to your government, and hope that you find it a useful informational tool.
From my efforts on the local level as a Wareham Selectwoman to my current tenure as State Representative for the 2nd Plymouth District, I have worked hard over the years to address the needs of area communities and look forward to continuing to do so for years to come.
As always, please feel free to contact me with any issue or concern you may have, and many thanks for your continued support.
Sincerely,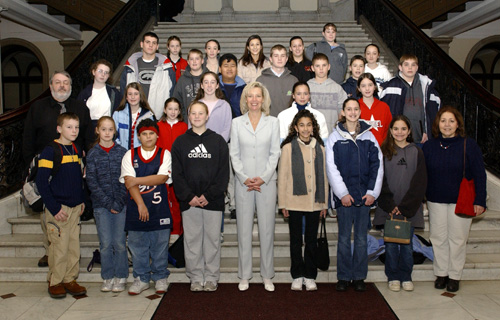 To help youth constituents learn about the State House and the legislative process, Susan hosts students from the Wareham Middle School on a tour of the state capitol building. more photos >>