View:Susan's October 2016 Newsletter
---
Sep 26, 2107
A letter from Secretary Bennet on ways to help Puerto Rico
---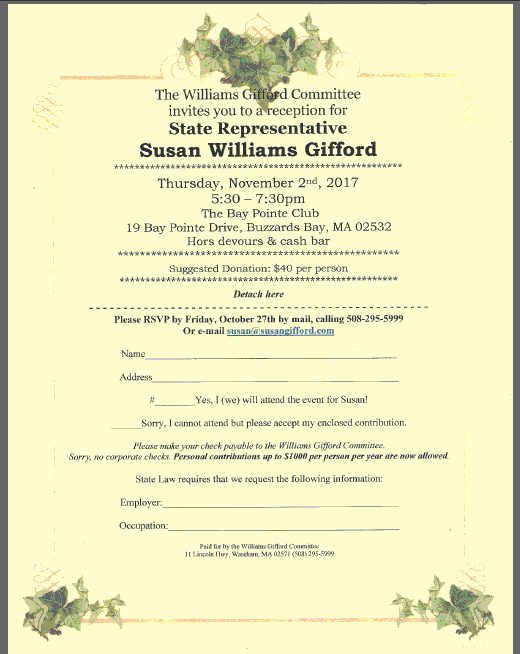 October 7th, 2016
REPRESENTATIVE GIFFORD ANNOUNCES KEY ENDORSEMENTS
BOSTON - Today State Representative Susan Williams Gifford (R-Wareham) announced endorsements by Union Workers and Small Business Owners. The Massachusetts Laborers' District Council and the National Federation of Independent Business (NFIB) have both endorsed her campaign for re-election.
Joseph Bonfiglio, Business Manager for the Mass & Northern New England Laborers' District Council representing nearly 25,000 general construction laborers and public employees said, "Rep. Gifford's tireless advocacy of issues and protections benefitting working class families has been commendable. We are confident that her passions and commitment to these issues will best serve the interests of our members and all hard working men and women in Massachusetts."
Bill Vernon, NFIB/MA State Director stated that their endorsement is based on Rep. Gifford's votes on issues important to small business owners during her terms in office. "We thank her for her commitment to the needs of thousands of Main Street small businesses and their more than one million employees in Massachusetts," said Mr. Vernon.
"These endorsements are a great honor to me," said Rep. Gifford. "I take great pride that I am recognized as being an advocate for working people and the businesses who employ them. The people I represent are my first priority and I truly have my constituents' best interest at heart."
---
August 31, 2016
Representative Gifford maintains perfect voting record

Wareham Republican casts 559 consecutive roll call votes during 2015-2016 session
BOSTON—House Minority Leader Bradley H. Jones, Jr. (R-North Reading) congratulated State Representative Susan Williams Gifford (R-Wareham) for maintaining a perfect voting record throughout the 2015-2016 legislative session. The Wareham legislator participated in all 559 roll call votes cast in the House of Representatives between January of 2015 and July of 2016, achieving a 100% voting record.
Rep. Gifford cast votes this session on a number of key policy issues including: a landmark bill that focuses on treatment, education and prevention to address this growing public health threat of opioid abuse; a statewide "Stolen Valor Act" to prosecute individuals who falsely claim to be a veteran or military honor recipient in order to fraudulently obtain money, property or other tangible benefits; an historic pay equity law designed to prevent gender-based wage discrimination in the workplace; and legislation reforming the state's public records law for the first time in over 40 years.
In addition to supporting the implementation of rigorous public safety standards for Massachusetts-issued drivers licenses to comply with the federal REAL ID Act, the Wareham lawmaker also cast votes in support of the HOME Act, a comprehensive bill that provides expanded employment protections, enhanced housing opportunities, and additional tax abatements to Massachusetts veterans; legislation expanding the procurement of offshore wind power and hydroelectric power; and a $1.02 billion economic development bill that will help create and retain jobs in the Commonwealth and support critical infrastructure investments.
During the 2015-2016 legislative session, Rep. Gifford reinforced her commitment to the communities within the 2nd Plymouth District by voting in support of significant local aid increases. Over the last two years, Chapter 70 education aid has increased by $227.3 million, bringing the statewide total to a record $4.6 billion. Over the same time period, Unrestricted General Government Aid – which helps communities pay for a variety of essential municipal programs – was increased by $76.1 million, to a total of $1.02 billion.
"The people of the 2nd Plymouth District elected me for a very important job, to represent their best interest on Beacon Hill. Being present to cast a vote is the fundamental responsibility of that job," said Rep. Gifford. "But, it's not just about showing up – it's also about being part of the debate and the voice of my constituents."
Rep. Gifford also recorded votes in support of an $800 million municipal road and bridge bill to help cities and towns address critical infrastructure needs, as well as a municipal modernization bill designed to help streamline municipal operations, provide greater financial flexibility to cities and towns, and improve the delivery of essential services at the local level.
"Representative Gifford continues to be a strong advocate for fiscal responsibility and accountability to the state's taxpayers, while effectively championing the needs of her district," said Representative Jones. "The residents of the 2nd Plymouth District are very fortunate to have her representing them and fighting for their interests on Beacon Hill."
Rep. Gifford currently serves as the Assistant Minority Whip and on the House Committee on Steering, Policy and Scheduling.

---
A Message from Susan
Thank you for visiting my online district office! I developed this website to help you connect to your government, and hope that you find it a useful informational tool.
From my efforts on the local level as a Wareham Selectwoman to my current tenure as State Representative for the 2nd Plymouth District, I have worked hard over the years to address the needs of area communities and look forward to continuing to do so for years to come.
As always, please feel free to contact me with any issue or concern you may have, and many thanks for your continued support.
Sincerely,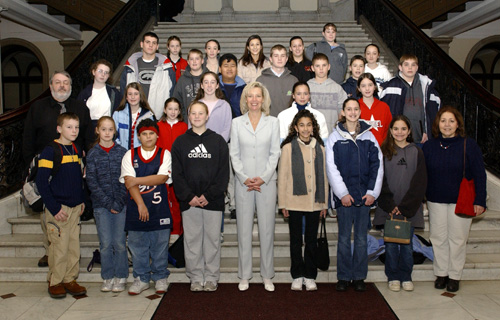 To help youth constituents learn about the State House and the legislative process, Susan hosts students from the Wareham Middle School on a tour of the state capitol building. more photos >>