---
March 15th, 2016
Representative Gifford sets date for "Charlie Card Event"
for Wareham Seniors
BOSTON - In partnership with the Massachusetts Department of Transportation (MassDOT), Representative Susan Williams Gifford (R – Wareham) will hold a Senior Charlie Card event for the Town of Wareham on Friday, April 1st, 2016 in the Community Room at the Wareham Senior Center from 10:00am to 11:30am. This event, provided by MassDOT, is intended to offer senior citizens throughout the commonwealth the ability to apply for a reduced fare CharlieCard without having to travel into Boston.

In order to prevent fraud, the MBTA only allows individuals to sign up for a reduced fare CharlieCard at their Downtown Crossing location. However, the DOT realizes that this may be difficult for some Senior citizens so they are looking to have State Representatives, Senators, and Senior Centers help organize a "CharlieCard Event" in order to make the reduced fare CharlieCard more accessible.
"In order to have this event in Wareham, we needed a minimum of 15 Seniors to attend," said Rep. Gifford. "I'm delighted that the interest in obtaining the Senior Discount CharlieCards far exceeded our expectations. We will have plenty of applications for anyone who still may want to apply but had not yet contacted my office."
Any senior, age 65 or older, with a valid RMV New England issued ID (which is required to apply) is encouraged to attend the event on April 1st. For more information, please contact Rep. Gifford's office in Boston at (617) 722-2100, her District Office at (508) 295-5999 or by e-mail at Susan.Gifford@mahouse.gov
---
A Message from Susan
Thank you for visiting my online district office! I developed this website to help you connect to your government, and hope that you find it a useful informational tool.
From my efforts on the local level as a Wareham Selectwoman to my current tenure as State Representative for the 2nd Plymouth District, I have worked hard over the years to address the needs of area communities and look forward to continuing to do so for years to come.
As always, please feel free to contact me with any issue or concern you may have, and many thanks for your continued support.
Sincerely,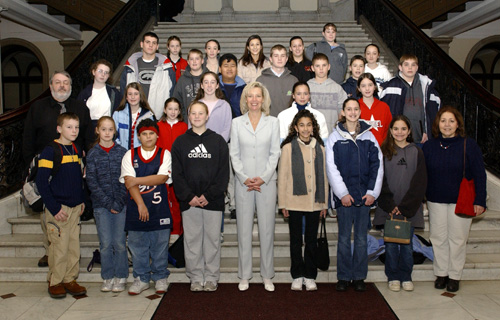 To help youth constituents learn about the State House and the legislative process, Susan hosts students from the Wareham Middle School on a tour of the state capitol building. more photos >>