---
March 21st, 2016
Representative Gifford Kicks-off Re-election Campaign
MIDDLEBOROUGH – State Representative Susan Williams Gifford (R – Wareham) kicked off her re-election campaign with special guest Governor Charlie Baker and a surprise visit by First Lady Lauren Baker. The event took place Tuesday, March 15th, 2016 at the Boston Tavern in Middleborough with approximately 100 supporters and other state and local elected officials in attendance.
Plymouth County District Attorney Timothy Cruz said in his introduction that Rep. Gifford has long been known for assisting the D.A.'s office in important matters such as the passage of Melanie's Law which targeted repeat drunk drivers and pushing for funding to relocate and make necessary upgrades to the D.A.'s office in Brockton. "Susan has been a great asset to law enforcement efforts not just in Plymouth County but state wide," said D.A. Cruz. "We are so fortunate to have her as a strong advocate for law enforcement and public safety."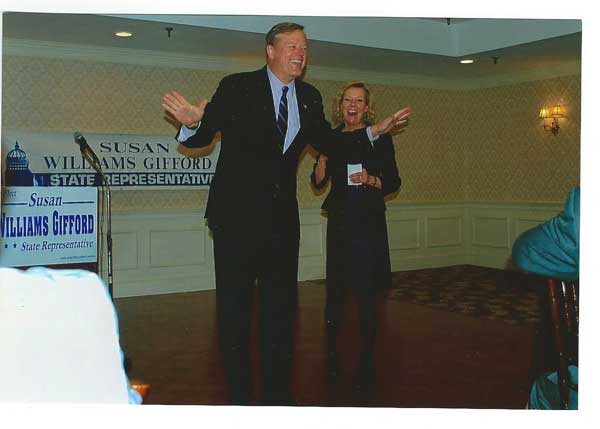 In her remarks, Rep. Gifford spoke about some of her legislative priorities. "Our cities and towns depend on state aid to help them provide services to citizens and keep taxes under control. Local aid has always been a priority for me and that will continue," said Rep. Gifford. She also spoke of her efforts to bring about much needed reforms to the state's Chapter 40B law and the importance of keeping tourism funding coming to the 2nd Plymouth District. "I am also honored to be serving as a member of the Cranberry Revitalization Task Force created by the Legislature last year," Rep. Gifford said. "My District is home to the most actively farmed acres of cranberry bogs in the Commonwealth. We are doing very important work to keep the industry competitive, innovative and environmentally friendly while preserving open space."
Rep. Gifford also said a big announcement will be forthcoming on April 14th concerning the Commuter Rail Extension Pilot Program in a joint public forum with residents and town officials from Wareham and Bourne. "Since I was a Selectman back in 1999, I have been working to make the extension of commuter rail service from Middleboro/Lakeville to Wareham and Buzzards Bay a reality. The Pilot Program is still awaiting final approval so I can't give any details now but this is going to be great news for our towns," said Rep. Gifford.
In her introduction of Governor Baker, Rep. Gifford said working with the Baker Administration is like a breath of fresh air. "When we need information, all we do is send an e-mail or make a phone call and guess what? You get a response! Imagine that," Rep. Gifford said. "Governor Baker has worked tirelessly on the Opioid Addiction Bill, expansion of Charter Schools, State and Local Partnerships and improving Municipal Finance and Government. I am so honored to have him here this evening."
Governor Baker began by speaking of the Opioid Bill just signed into law on Monday, March 14th. "This Opioid Bill was not something that I initially ran for office to accomplish, but everywhere I went in the state I would constantly hear of this horrible disease. It really affected everybody and I know Susan shared my belief that something had to be done. I was happy to work with Susan and her colleagues on this Bill that we are expecting to become a national model."
In speaking about his bill, An Act to Modernize Municipal Finance and Government, Governor Baker said, "It was important for me to improve relations between State and Local government and I am happy to work with experienced Representatives like Susan who know these issues and helped get things done to create a more efficient system." The First Lady of the Commonwealth, Lauren Baker joined Susan and the Governor following an event she attended on the Cape.
---
A Message from Susan
Thank you for visiting my online district office! I developed this website to help you connect to your government, and hope that you find it a useful informational tool.
From my efforts on the local level as a Wareham Selectwoman to my current tenure as State Representative for the 2nd Plymouth District, I have worked hard over the years to address the needs of area communities and look forward to continuing to do so for years to come.
As always, please feel free to contact me with any issue or concern you may have, and many thanks for your continued support.
Sincerely,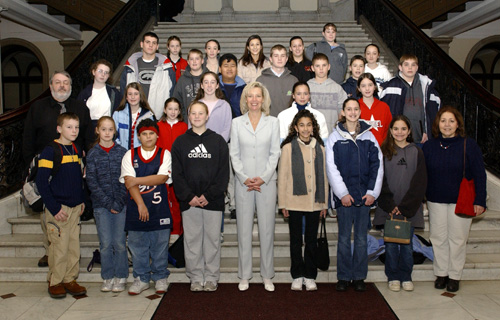 To help youth constituents learn about the State House and the legislative process, Susan hosts students from the Wareham Middle School on a tour of the state capitol building. more photos >>